Since 1976, the Canadian Chiropractic Research Foundation (CCRF) has been funding chiropractic research to discover the best, evidence-informed treatments for patients living with pain and disability caused by spinal dysfunction and disease.
In 2001, the CCRF established its Research Chair program that placed chiropractic researchers in Canadian universities for the very first time.
"Research provides evidence to support that chiropractors can have a positive influence on decreasing pain and increasing function in patients with back pain, neck pain, and musculoskeletal ailments."
Dr. Steven Passmore, CCRF Research Chair
Read about the impact these researchers are making here!
How Chiropractic Research Improves Patient Care
CCRF Research Chairs Across Canada

For the last decade, the CCRF was working to achieve one, high-level, profession-altering goal—to place chiropractic researchers in Canadian universities for the first time in history. With the help of our generous donors this goal was successfully achieved. Thirteen chiropractic
researchers
are now active in universities across Canada.
Improving Patient Care

Thanks to your support, chiropractic researchers are working with multidisciplinary research teams and health clinics on campus and around the globe. They are educating medical students, breaking down barriers and building inter-professional bridges and networks to improve patient care.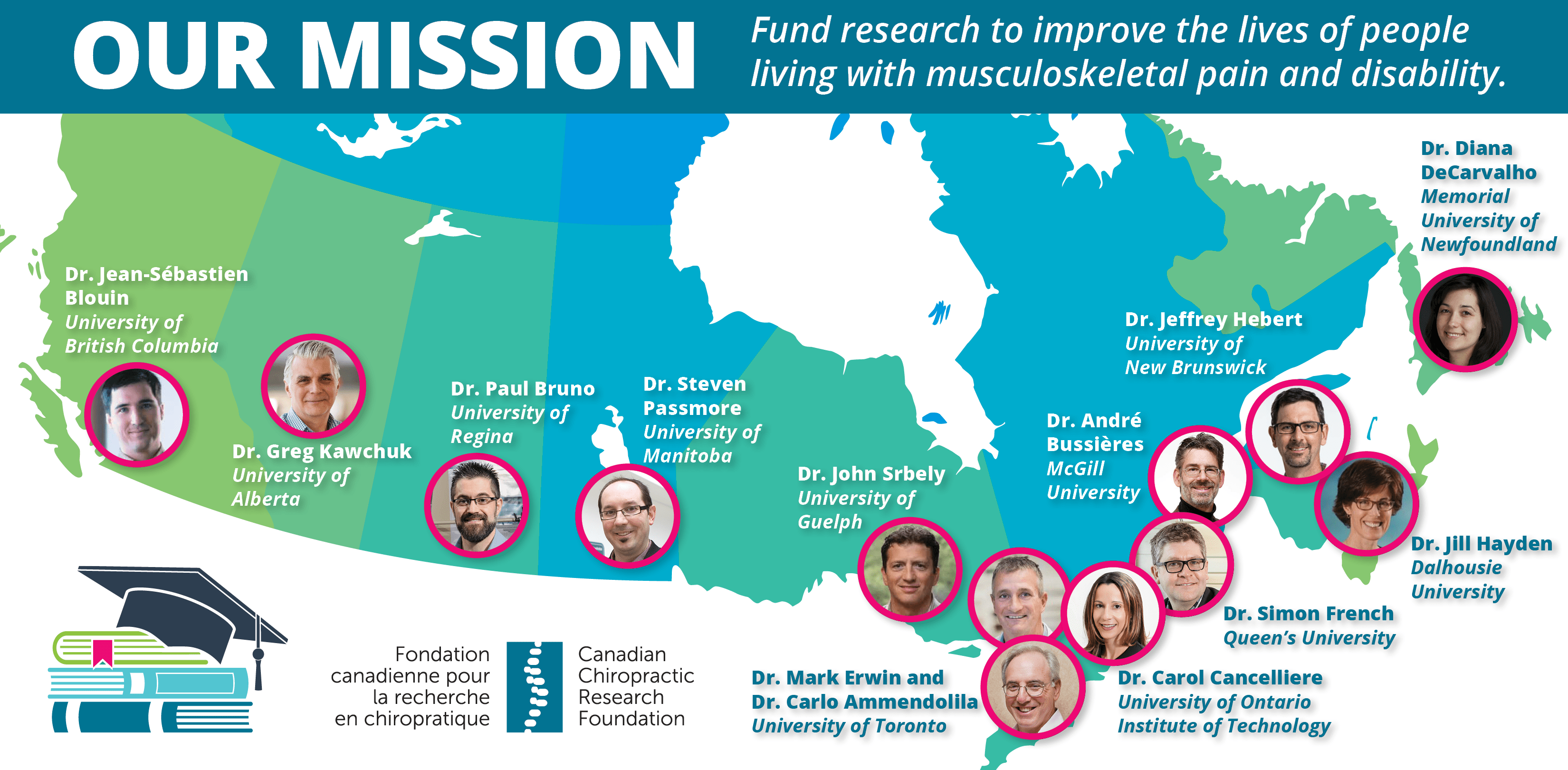 These professionals conduct important research in musculoskeletal health. Areas of study include workplace wellness (e.g., sitting and back pain) and long-term disease prognosis (e.g., possible links between MSk disability and cardiovascular disease). Read their fascinating stories
here
.
OUR IMPACT
Improving the lives of Canadians living with musculoskeletal pain
Making a Difference with Patients, Chiropractors and Healthcare Teams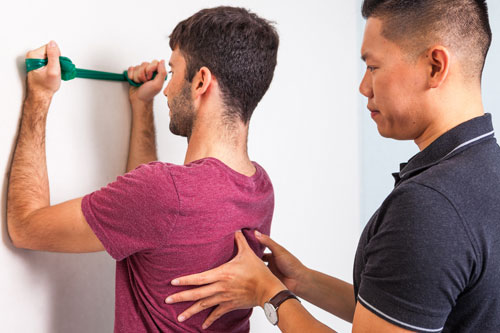 Access to Leading Edge Patient Care
"My quality of life was a three out of ten before seeing a chiropractor. Now it's a nine out of ten. As far as I can see, it's a 100% improvement in my back pain."  Corbett Ducharme, Chiropractic Patient, Low Back Pain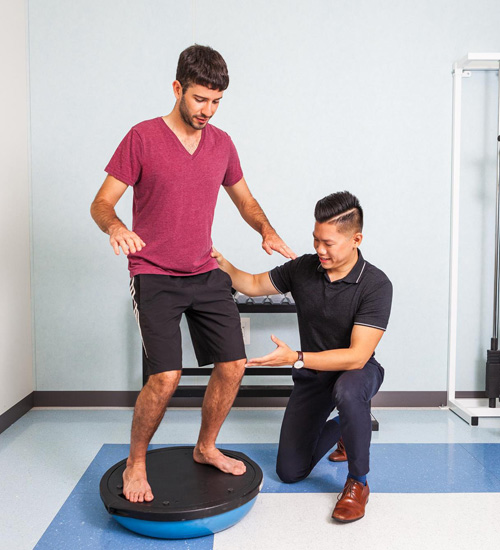 Advancing Integrated Healthcare Models
Positive collaborations with healthcare professionals
"Dr. Passmore has redefined the concept of meaningful collaboration. He has brought his past experience in manipulative therapy, epidemiology and outcome measurement to the Winnipeg Spine Program and has become the foundation of our research program."  Dr. Mike Johnson, Orthopaedic Spine Surgeon, University of Manitoba/Health Sciences Centre
Promoting integration with successful programs in health clinics around the country
"It's been very helpful to have access to chiropractic care for people with both acute and chronic musculoskeletal complaints, especially having non-pharmacological options."  Dr. Macaulay, MD, Mount Carmel Clinic
Harnesses technology to develop databases and electronic medical records to encourage a team approach to patient care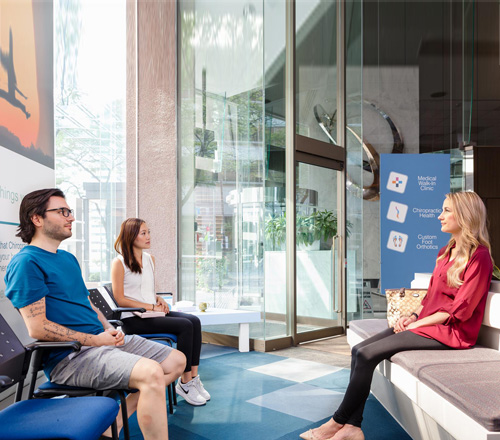 Increased Credibility
"The work of Dr. Mark Erwin and his lab may ultimately lead to an injectable agent for the treatment of degenerative and inflammatory joint diseases. This could be a milestone in finally achieving a safe, effective, non-invasive treatment for Osteoarthritis of the knee and other greater joints."  Dr. Sebastian Mueller, Orthopaedic Surgeon, Basel University Hospital, Switzerland
Greater understanding of the benefits of chiropractic care by the Canadian public
"I use research reviews as guides to tell me where the boundaries are—what I can and can't do. Now it's documented, and it's high quality evidence. It steers me in the right direction."  Dr. Mark Bronsen, DC, Kirkland Lake
NATIONAL RESEARCH PRIORITIES
Meeting the Needs of Today's Patient
Together with our partners and donors, we fund four, national research priorities.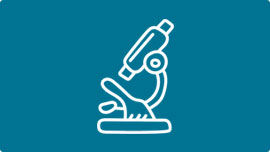 Basic Science
What are the physiologic mechanisms contributing to the clinical manifestation and therapeutic responses in the chiropractic management of chronic and acute musculoskeletal pain?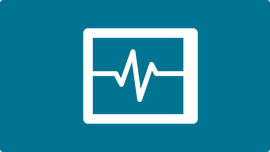 Health Systems
Does the inclusion of chiropractic care into an interdisciplinary healthcare setting to address musculoskeletal conditions improve healthcare resource management and patient outcomes?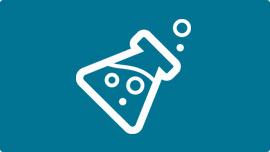 Clinical Science
What is the effect of chiropractic management on clinical outcomes associated with acute and chronic musculoskeletal pain and dysfunction?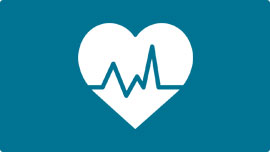 Population Health
What impact does chiropractic care have on the musculoskeletal health outcomes of specific sub-groups of the population, such as the elderly population and children/adolescents?
GET INVOLVED
As a charitable organization, the CCRF is funded by its awesome foundation partners and donors.
"Creating new knowledge is critical to improving patient care. The OCA is proud to support the CCRF as they work to discover the best, evidence-informed treatments for the benefit of patients living with pain and disability."
Ms. Caroline Brereton, CEO, Ontario Chiropractic Association
"Research enhances the health of Canadians and chiropractic research supports practitioners in providing great evidence-informed care to Canadians. The ACAC is proud to support the Canadian Chiropractic Research Foundation and be a key partner in chiropractic research in Canada."
Dr. Chad Kulak, President, Alberta College and Association of Chiropractors
"The CCA, as the national voice for chiropractic in Canada, believes that a key component of our profession's success relies on having research and evidence to support our members in providing excellent patient care. This is why we have supported the CCRF since its inception, and will continue to support the CCRF into the future."
Ms. Alison Dantas, CEO, CCA
If you're interested in becoming a CCRF funding partner, please contact us.